⭐️⭐️⭐️⭐️⭐️HAPPY TUMMY, HAPPY ME.
"I feel good after stomach parties. Lately having issues with my tummy especially after eating meats and other heavy meals.Decided to try something herbal over prescriptions. My tummy is happy now."-Mia
THE ULTIMATE GUT MASTER. Created for healthy gut flora, mood enhancement & natural body detox. Promotes sexy skin glow. Powered by nature's super-herbs.
Regular price
Sale price
$22.69
Unit price
per
Sale
Sold out
100% Risk Free-money back guarantee.
Share
View full details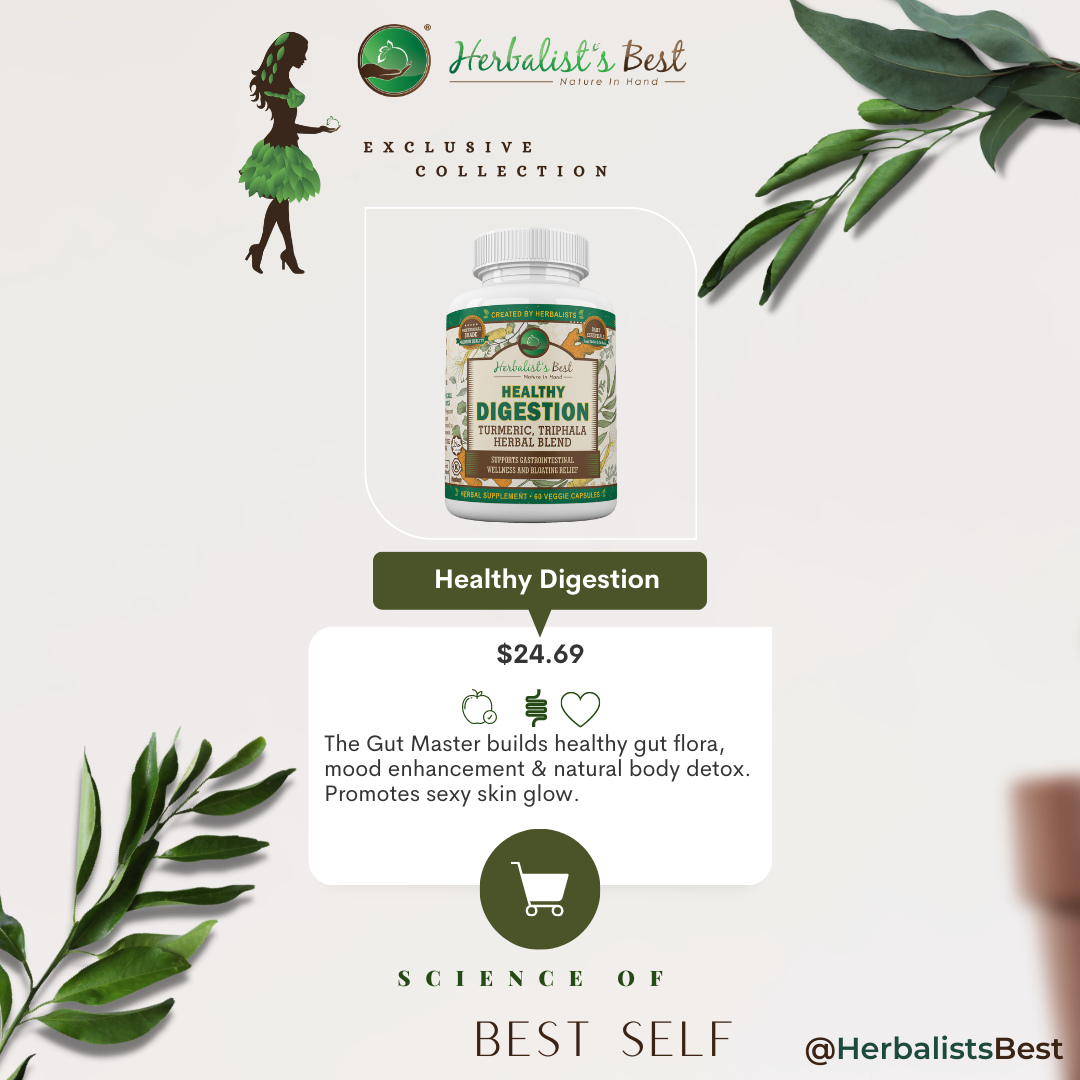 Meet The Gut Master
Key Benefits

How will HEALTHY DIGESTION improve your life?

 

✧ HEALTHY WEIGHT LOSS-You will feel good in your skin and loose pounds naturally!

✧ MORE ENERGY AND STAMINA-You will feel renewed and energized!

✧ MENTAL CLARITY-No more brain fog, only happy thoughts!

✧ SUPREME NUTRITIONAL SUPPORT-You will be nurtured from the inside out and your over all wellness will be better!

✧ STRONGER IMMUNE SYSTEM AND DISEASE DEFENSE!No more sick days and peak performance will let you live your life the fullest!

✢ Herbalist's Best supplements are NON-GMO, absolutely free of binders, preservatives, chemicals, coloring agents and fillers!
Ingredients

🌱 TURMERIC EXTRACT(95% standardized curcuminoids),

🌱 TRIPHALA(Three fruits- amalaki,bibhitaki,haritaki),

🌱 DANDELION ROOT(Tarazacum), YELLOW DOCK ROOT(Rumex crispus),

🌱 MORINGA(Moringa Oleifera powder of leaves),

🌱 CILANTRO(Coriandrum sativum),

🌱 FENNEL SEEDS(Foeniculum vulgare),

🌱 ANISE SEEDS(Pimpinella anisum),

🌱 BIOPERINE(Piper nigrum)

🌱 OTHER INGREDIENTS: Veggie Capsules

FREE of: peanut, shellfish, gluten, soy, dairy, preservatives, GMOs, coloring agents, fillers, binders.
Product Description

Bottle: 60 capsules

Supply: 30-60 days

Serving Size 1-2 capsules per day.

Flavor: herbal

About this item

❋COMPLETE BODY CLEANSE AND SUPPORT

Powerful digestive bitters and laxatives like Triphala, Yellow Dock Root, Dandelion Root, Cilantro, Fennel and Anise Seeds will Detox Your LIVER, Cleanse Your Colon and Body Metal Toxic Naturally.

These superherbs promote healthy weight loss, what will make you feel good in your skin again and lose pounds easily!

In addition to the GI tract, in Ayurveda uses these herbs to support healthy respiratory, cardiovascular, urinary, reproductive, and nervous systems.

❋ NATURAL SKIN GLOW AND HORMONE BALANCE

Dandelion, Yellow Dock Root and Cilantro will help with many skin issues originate from sluggish detox of hormones and waste products.

The benefits of consuming bitters can result in clearer skin!

You can show up at any party, meeting or event knowing that you will attract lots of attention with your fresh and healthy skin glow!

❋ ULTIMATE GUT FLORA HEALTH

90 percent of all diseases can be traced in some way back to the gut and health of the microbiome.

Healthy Digestion will optimize your microbiome and keeps your GUT in good shape!

Yellow Dock is a natural prebiotic, fennel and anise seeds have incredible anti-bloating, anti-gas properties what will ensure uninterrupted fun times with your beloved ones!

❋PREMIUM NUTRITIONAL SUPPORT

Super nutritious blend will nurture your system inside out. Moringa, Cilantro, Yellow Dock and Dandelion Root which are packed with vitamins-A, C, E, K and B(1,2,6,12) as well as minerals-including Magnesium, Zinc, Potassium, Iron, Calcium and Choline.

Addition to this Bioperine(black pepper extract) will increase your nutritional absorption by 2000% to ensure the highest outcome by nurturing & optimizing your brain, gut and immune system!

❋100% MONEY BACK GUARANTEE - IT IS ABSOLUTELY RISK FREE!

Herbalist's Best uses only the highest 100% natural raw ingredients tested by 3rd party lab for purity!

Every product is made in USA, cGMP approved facility.

Healthy Digestion formula has NO GMO, preservatives, binders, fillers, additives, coloring agents or allergens.

TRY Healthy Digestion NOW and Start Living Your Life Happily Again!

We have your back!

You just "GUT" TO DO IT!
Suggested Use

Suggested Use:

As Dietary supplement take 1-2 capsules a day preferable with meal or water.

CAUTION:

Do not exceed recommended dose. Pregnant or nursing mothers, children under age of 18, and individuals with known medical conditions should consult a physician before using this or any dietary supplements.
Legal Disclaimer

These statements have not been evaluated by the Food and Drug Administration. This product is not intended to diagnose, treat, or cure any disease. Discontinue use immediately if any allergic or other adverse reaction occurs. This product should not be taken after the expiration date.

Statements regarding dietary supplements have not been evaluated by the FDA and are not intended to diagnose, treat, cure, or prevent any disease or health condition.
⭐️⭐️⭐️⭐️⭐️
Highly recommend for anyone with digestive issues.
"I have struggled with lifelong digestive problems and tried several probiotics. What a difference since I started taking this."